Free Reports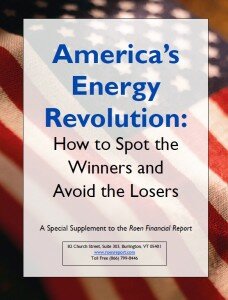 Fill in the form at right to get America's Energy Revolution: How to Spot the Winners and Avoid the Losers , or click on any of the alternative energy reports below.
Solar energy started as one of the hottest investment themes of this decade, but has since become extremely volatile. Despite this, solar is being deployed on a scale that would have been hard to imagine just 10 years ago. In the U.S. alone, an estimated 3.3 gigawatts of new solar capacity was installed in 2012, roughly equal to the amount installed in the 4 previous years combined!
Solar's rapid growth and erratic stock prices have created a very challenging investment environment, so investors are wise to understand the different types of solar companies. Overall, I believe solar is set to continue its growth and prove an excellent long-term investment if you are in the right stocks. Be sure to read Invest Solar: Solar Energy Investment Opportunities

Investing in alternative energy companies through Mutual Funds and Exchange Traded Funds is an excellent way to create a diversified portfolio. The Roen Financial Report uses a proprietary system to rank open end Mutual Funds (MFs) and Exchange Traded Funds (ETFs) based on multiple criteria, including return, risk, sales and earnings ratios, tax costs and expenses. Rank 1 funds have the best rating relative to the other funds, and Rank 5 have the lowest.
Subscribers get access regularly updated detailed reports and spreadsheets on MFs and ETFs. These in depth reports include valuable information such as which funds have the highest rankings, and why.
Improving electric power distribution by building a "smart" electric grid is essential to transforming America's energy production and usage. A key area of the smart grid is managing the mountains of data that will be created by smart meters and other monitoring nodes.
Efforts are underway to build a robust, two-way communication system that will implement critical decisions system-wide through analysis of massive amounts of data across varying platforms.
For more information on investment opportunities in smart grid companies please click here for our special report Smart Grid Investment Opportunities: Understanding the Smart Grid Investment Landscape.
Wind power is one of the most economical forms of renewable energy on the market today. This special report Wind Energy Investment: The Future on a Global Scale offers expert guidance on the dynamic and growing field of wind energy.
Guest author Spencer Newman, a strategic consultant for the renewable energy industry, answers questions critical to understanding wind as an investment. These include: what key drivers are impacting the wind industry, domestically and abroad; why does it pay to think globally when investing in wind; and why individual stocks might not be your best play in the wind industry.
For your free copy of Wind Energy Investment please click here to download your report today