The Roen Financial Report closely covers the universe of around 30 alternative energy Mutual Funds (MFs) and Exchange Traded Funds (ETFs). We use a proprietary ranking method to pick the best funds, looking at measures that include fees, risk, tax liability, and the financial health of individual holdings within each fund. Subscribers can see the complete list of funds, including rankings and technical breakdowns, in both Excel and PDF format, by going to roenreport.com/mfsetfs/ .
Mutual Funds
All of the alternative energy MFs were up handsomely in the past three months. The biggest gainer was Firsthand Alternative Energy (ALTEX), up 27.3% for the quarter, which also moved ahead in its ranking. Even the lowest three-month gainer, Brown Advisory Winslow Sustainability Fund (BAWAX), was up an impressive 9.2%.

One-year returns were more variable, ranging from a gain of 18.0% for AWATX, to a loss of 11.7% for ALTEX. This has much to do with the solar holdings in these funds. For example, companies in ALTEX such as JA Solar (JASO), Yingli Green Energy (YGE) and JinkoSolar (JKS) have had outstanding quarterly returns, but are still down substantially for the year.
Exchange Traded Funds
The average three-month return remains high for alternative energy ETFs, at 13.6%. The notable exception is GRN, which has suffered from the steep drop in carbon prices. Two solar ETFs have done the best in the past three months, TAN and KWT. Both these funds, though, have taken a beating over the longer term, as can be seen in their one-year and three-year returns.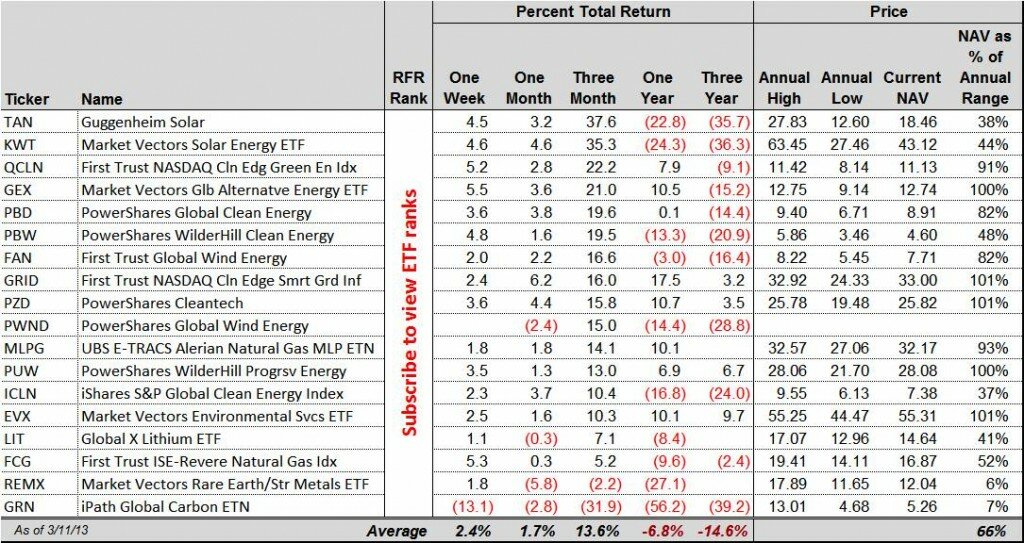 PowerShares Global Wind Energy Portfolio (PWND) is no longer trading, and closed out at $6.23/share on February 26th. What happened was that the amount of assets under management were too low for the company to justify keeping the fund open. This is not an uncommon occurrence in the over-crowded ETF world. KWT, GRN and First Trust NASDAQ® Clean Edge® Smart Grid Infrastructure Index Fund (GRID) are also on watch for having the potential to be shut down and liquidated. This is a good reminder that care should be taken, as many alternative energy investments can be highly speculative on both the upside and the downside.
---
IMPORTANT INFORMATION
Individuals involved with the Roen Financial Report and Swiftwood Press LLC do not own or control shares of any companies mentioned in this article. It is possible that individuals may own or control shares of one or more of the underlying securities contained in the Mutual Funds or Exchange Traded Funds mentioned in this article. Any advice and/or recommendations made in this article are of a general nature and are not to be considered specific investment advice. Individuals should seek advice from their investment professional before making any important financial decisions. See Terms of Use for more information.
---
Remember to always consult with your investment professional before making important financial decisions.