User Guide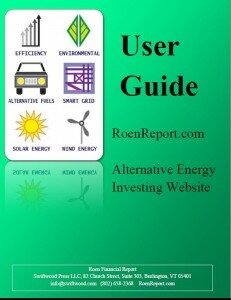 This user guide has been created so that investors, researchers, and the like can better use what our website has to offer. The goal is to give users valuable information in order to make better investment decisions based on clear, deliberate strategies in an understandable, helpful manner.
The Roen Financial Report home page is a great place to monitor how alternative energy investments are performing on a daily basis. This page lists industry returns, recent articles, and has links for more information on the six alternative energy sectors.
Company Profiles are at the heart of what we do at the Roen Financial Report website. This section of the user guide will show how to browse through companies as a whole or by category, and describes how to interpret the different sections of individual company profiles.
Each company that the Roen Financial Report tracks is classified in two ways. First, stocks are categorized into one of three groups that indicate the size of the company, and whether it is an alternative energy "pure play." Second, companies are organized into one or more alternative energy industry.
Subscribers get access to premium content throughout the Roen Financial Report website. This includes all the Company Profiles, Mutual Fund/ETF reports, the Paradigm Portfolio and Top Pure Play companies.
There are two types of articles available at the Roen Financial Report website. Original content on our blog, and important alternative energy articles from the web.
The Roen Financial Report uses proprietary methods to pick what we feel are the best-positioned alternative energy investments. These methods are used to construct the Paradigm Portfolio, pick Top Pure Play stocks and rank alternative energy mutual funds.