User Guide: Company Profiles
Company Profiles are at the heart of what we do at the Roen Financial Report website. We track +/- 250 alternative energy companies, which are categorized in several important ways. This section of the user guide will show how to browse through companies as a whole or by category, and describes how to interpret the different sections of individual company profiles.



Glossary of Alternative Energy Companies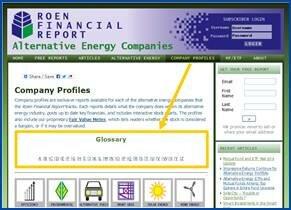 The main page for Company Profiles shows a glossary that lists all the stocks that the Roen Financial Report tracks. By clicking on a letter in the glossary alphabet, users can find any of the alternative energy stocks that we cover. Companies are listed alphabetically by ticker.
In addition to the main glossary, there are many other ways a user can browse alternative energy companies. By clicking on an alternative energy industry icon below the alphabet, users can access glossaries for each of the six sub-industries within the alternative energy sector. These can also be accessed from the drop-down menu under Company Profiles.
Another way to browse companies is by one of three major groups in which stocks are classified: Large Cap Legacy, Small Cap Appreciation, and Green Investment Pure Play. These glossaries can be accessed from the Company Profile drop-down menu. To learn more about these investment groupings, please see the Alternative Energy Types section of this user guide.
The Roen Financial Report offers a "try-before-you buy" service. Company Profiles for stocks that begin with the letter "A" are free and open to all users. All other company profiles require a subscriber login.
Other premium content that can be accessed from the Company Profiles menu includes a list of Paradigm Portfolio and Top Pure Play stocks. Please see the Subscriber Only Areas of this user guide to learn about premium content that the Roen Financial Report offers.

Exploring Company Profiles
There is a wealth of information on each of the roughly 250 Company Profile pages. The page for Johnson Controls, Inc. (JCI) is used below as an example to illustrate Company Profile features.
What A Company Does
This section shows how exactly a company fits into the alternative energy universe of businesses. Information about what work the company does in the alternative energy sector can be found under the company name at the top of the page.
First, the icons show in what specific alternative energy industry the company operates. Each icon is hyperlinked to more information about each industry.
The next table gives an at-a-glance summary of the specific work the company does. It lists the company type, the product or services it offers, and the applications that are relevant to the alternative energy industry. The table also shows the location of the company's headquarters, and its web address.
The text that follows the table details company operations in plain English in order to help investors understand what business the company is in. For larger companies that are in many different types of business areas, such as JCI, this text focuses on how the company is involved in alternative energy.
Company Ratings
Looking at the right hand column, users can find Company Ratings statistics. These proprietary measures are exclusive to the Roen Financial Report website, and can be extremely important in determining if a stock is a good candidate for investment.
Fair Value
The first box shows the Fair Value Meter for the company. Fair value is a measure of where a stock's current trading price is in relation to what we believe a fair price is for that stock. If a stock looks cheap, the fair value meter for that company will display as undervalued or below fair value. Conversely, if a stock looks expensive, the fair value meter will warn readers with an above fair value or overvalued signal.
Fair value is calculated by looking at a company's earnings compared to its stock price. If there is not enough earnings data to calculate fair value for a company, the Fair Value Meter will indicate "Not Enough Data." Fair value is updated weekly.
To learn how fair value is calculated, go to:
About>>How is Fair Value Determined?
Company Rankings
The table under company ratings shows how the stock ranks when compared to other companies in its alternative energy industry. Companies are ranked from 1 to 5, with 1 being the highest rank. So in other words, when Johnson Controls is measured up to all other companies that are involved in solar to see where it ranks. To learn more about what criteria are used to rank companies, please see the How Investments Are Picked section of this user guide. These values are updated monthly.
Speculative Level
The next table shows the Speculative Level that each company is rated. This is a very important criterion, since many alternative energy companies are nascent businesses that are still in the development stage. This makes them very volatile with a potential of a huge payoff, but conversely may never make any money at all. It is important for an investor to consider how much volatility is appropriate for their portfolio.
Another thing investors need to be wary of is companies that are candidates for "pump-and-dump" operations. This is where early investors look to artificially increase a stock's price in the short-term, and then sell out of their shares before the stock price inevitably falls again. Awareness of a company's speculative level can be an important indicator of this type of activity.
Criteria used to determine speculative levels include what exchange the stock trades on, stock price (i.e., is it a penny stock), price fluctuations, earnings and sales. These criteria are measured using a proprietary formula that determines a company's speculative level as either very low, low, medium, high or very high. Speculative levels are updated monthly.
Stock Status

If there is a change in a stocks status, it will appear in place of the Company Ratings box. This includes name changed, bankruptcy, merger and acquisition activity, or if a stock is delisted. Alerts about these types of activity also go out to Roen Financial Report subscribers.
Technical Data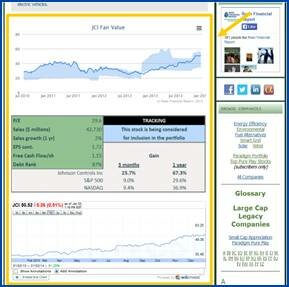 Scrolling down the company profile page, technical charts for each company are displayed. The first graph shows the history of fair value levels for the company. Taking data from the Fair Value Meter, this proprietary, interactive graph tracks how fair value has changed over time. The light blue shaded area shows the fair value range, and the solid blue line tracks the stock price. Users can download the graph in several different formats by clicking on the box in the upper right corner of the chart. This graph is updated weekly.
The next table shows company statistics that are worth watching. Because so much financial data are free to find on the internet, we limit this table to a few select statistics. Price/earnings (P/E), sales, sales growth, earnings per share (EPS) and free cash flow are all updated weekly.
Debt Rank is a measure of a company's debt levels. It is determined by combining long-term debt to total sales, total liabilities to total assets and long-term debt to total capital in a proprietary formula. A debt rank over 125% is considered a risk, and debt rank over 175% is considered high-risk. Since debt tends not to fluctuate greatly, this number is updated quarterly.
Six-month and one-year stock price gains (or losses) are compared to returns of the overall market as indicated by the S&P 500 and NASDAQ.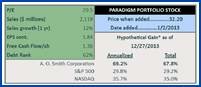 If the company is a Paradigm Portfolio stock then the statistics table changes slightly, as shown in the example for A. O. Smith Corp. (AOS) at right. The black box at the top right of the stock's status indicates that it is a constituent of the Paradigm Portfolio. The box will also show when the company was added to the portfolio, at what price, and what the hypothetical gain is to date.
Stock Alert

When a significant event happens that investors should be informed of, a stock alert is added to the company profile. A corresponding e-mail alert goes out to Roen Financial Report subscribers.
Browsing Similar Companies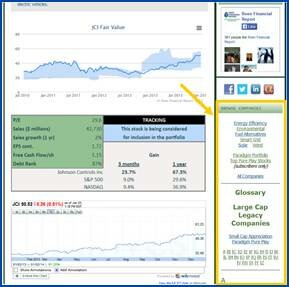 As you scroll down the right column of a company profile page, you will find a glossary for the company group in which it is categorized, either Large Cap Legacy, Small Cap Appreciation, or Green Investment Pure Play.
Since JCI is a Large Cap Legacy company, the glossary in the right column allows the user to explore all of the other Large Cap Legacy companies that the Roen Financial Report tracks. The other company groups are available to browse by clicking one of the choices just above the alphabet.
Above the glossary, you can click on any of the alternative energy industries to browse energy efficiency companies, environmental companies, etc. Subscribers can directly access premium content by clicking on the Paradigm Portfolio or Top Pure Play Stocks links.