User Guide: Subscriber Only Areas
Subscribers get access to premium content throughout the Roen Financial Report website. This includes all the Company Profiles, Mutual Fund/ETF reports, the Paradigm Portfolio and Top Pure Play companies.





Company Profiles
Premium content in the Company Profiles includes proprietary company ratings, stock alerts, and technical data. Non-subscribers are limited to viewing only Company Profiles that start with the letter "A". Company profiles are found as a choice on the website's top menu.

Mutual Fund/ETF Report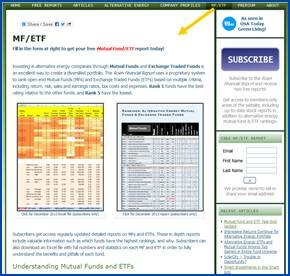 Every month the Roen Financial Report analyzes the universe of green Mutual Funds and Exchange Traded Funds (ETFs). A proprietary system is used to rank funds based on multiple criteria, including return, risk, sales, tax costs, expenses and earnings ratios. A report is issued discussing alternative energy fund ranks, returns, and trends. Detailed supporting data are also available in Excel format.
Investing in alternative energy companies through Mutual Funds and Exchange Traded Funds is an excellent way to create a diversified portfolio. Mutual Funds/ETFs are found as a choice on the website's top menu.
Top Renewable Energy Stocks
The Roen Financial Report analyzes roughly 250 alternative energy companies to see which are best positioned for long-term returns. The most promising stocks are entered into the well diversified Paradigm Portfolio. For investors looking for companies exclusively focused on alternative energy, a list of top pure play stocks is published.
Paradigm Portfolio
The paradigm portfolio is a diversified selection of top ranked companies in the business of alternative energy. These are the highest quality companies that are considered best positioned to benefit from the economic paradigm shift away from foreign oil and polluting coal and toward cleaner alternatives.
Some of these companies also operate in other sectors, but they are all important players in one or more alternative energy industry. The goal of the Paradigm Portfolio is to contain a balanced, diversified selection of the highest quality alternative energy companies.
A list of paradigm portfolio companies, and a table of how those stocks have performed, is available in two places. The list can be found by going to:
Premium >> ($) Paradigm Portfolio
It can also be found under:
Company Profiles>>($)Top Renewable Energy Stocks>>($)Paradigm Portfolio
Top Pure Play Stocks
The list of top pure play stocks shows the best-ranked companies that work solely in the alternative energy sector. This means that the primary mission of a business is either energy efficiency, environmental, fuel alternatives, smart grid, solar and/or wind.
The list of top pure play stocks and a performance table can be found in two places. Subscribers can go to:
Premium >> ($) Top Pure Play Stocks
It can also be found under:
Company Profiles>>($)Top Renewable Energy Stocks>> ($)Top Pure Play Stocks