User Guide: Home Page
The Roen Financial Report home page is a great place to monitor how alternative energy investments are performing on a daily basis. This page lists industry returns, recent articles, and has links for more information on the six alternative energy sectors.



Stock Returns By Industry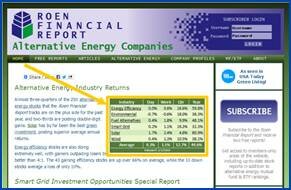 The Combined Industry Return Chart appears at the top of the home page. The chart shows daily, weekly, three- month and 12- month returns for each of the six different alternative energy industries. The numbers shown are the average percent gain of all companies within that industry. The text that appears to the left of the chart outlines important trends in alternative energy industry returns. This text is updated throughout the week as developments occur. This chart is updated each trading day.
Users can click on any of the six industries to find a list of all the individual companies that make up returns for that industry. This takes you to the resulting industry page, where you can find the Industry Return Chart showing all the individual companies within that industry in the right-hand column as you scroll down the page.
It should be noted that some companies operate in more than one alternative energy industry, so will appear on more than one industry return chart. For example, Johnson Controls, Inc. (JCI) is a large, diversified company that is involved in energy efficiency, fuel alternatives, smart grid, and solar. As a result, JCI appears on all four of these industry return charts.
Recent Articles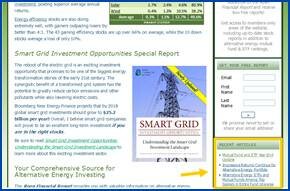 A list of the 15 most recent articles is listed on the home page in the right column. This is all original content on key topics relating to alternative energy investing.
Subjects that are covered include green mutual funds and Exchange Traded Funds (ETFs), in-depth insights on trending alternative energy companies, development in the Roen Financial Report's Paradigm Portfolio, and other important topics. Articles are generally added on a weekly basis.
Alternative Energy Industries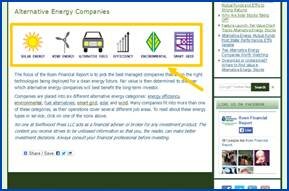 When you scroll further down the home page, you are introduced to the six alternative energy industries: energy efficiency, environmental, fuel alternatives, smart grid, solar and wind. Click on any of the icons to bring you to a page that shows more detail on each individual industry.