by Harris Roen, Editor
Roen Financial Report
October 1, 2013

Alternative energy MFs racked up extremely robust gains in the past year. Returns range from a low of 16%, to a high of 64% for a mutual fund that is heavy into
solar investments
. ETFs also did well, but returns are much more variable. They range from a loss of 34% for a carbon ETF, to more than doubling of a solar ETF.
Returns remain excellent for alternative energy MFs overall, with average mutual fund up 32.3% for the year. Not a single fund posted a loss in the past 12 months. All mutual funds are also up for three-month and one-month time periods.
The best performing mutual fund over several time frames (12-month, three-month, one-month and one-week) is Guinness Atkinson Alternative Energy (GAAEX), up over 64% for the year. This fund is strongly invested in solar, with top weighted holdings that include SunPower Corp (SPWR), JA Solar (JASO), ReneSola (SOL) and other solar winners.
Exchange Traded Funds
Performance of alternative energy ETFs are better for the year than their mutual fund counterparts, up 36.1% on average. There is a wider range of returns, though, with three out of the 17 ETFs posting double-digit losses.
The best returning ETF is Guggenheim Solar (TAN), up an astounding 113.5% for the year! Though this solar ETF is trading at its best levels in over a year and a half, it is still far below levels it was trading at in the heady solar days of 2008. This suggests that the climb for this fund could continue far past current levels.
Alternative Energy versus Other Sectors
Compared to other sectors of the economy, alternative energy mutual funds and ETFs have outperformed extremely well. According to Morningstar®, sectors on average returned 24%, far below annual returns for MFs and ETFs. It is interesting to note that alternative energy mutual funds and ETFs did much better than the volatile energy sector as a whole (four to five times better in fact).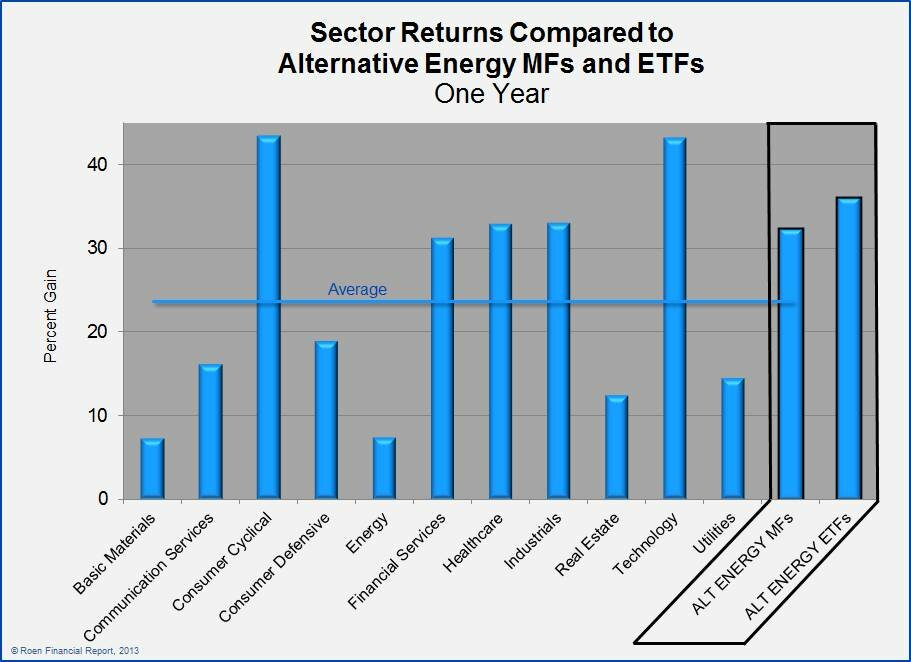 Monthly returns show even better comparative results. Alternative energy MFs and ETFs beat all the sectors without exception. Comparing the average of all sectors, mutual funds performed almost twice as well, and ETFs almost three times better.


The easy money may have been made in September, led by extremely strong returns in solar. However, I still believe the mindful alternative energy investor is likely to do well in the long term.
---
IMPORTANT INFORMATION
Individuals involved with the Roen Financial Report and Swiftwood Press LLC do not own or control shares of any companies mentioned in this article. It is also possible that individuals may own or control shares of one or more of the underlying securities contained in the Mutual Funds or Exchange Traded Funds mentioned in this article. Any advice and/or recommendations made in this article are of a general nature and are not to be considered specific investment advice. Individuals should seek advice from their investment professional before making any important financial decisions. See Terms of Use for more information.

5 Responses to "Solar Carries Alternative Energy Mutual Funds and ETFs to Strong Returns"