by Harris Roen, Editor
Roen Financial Report
December 19, 2014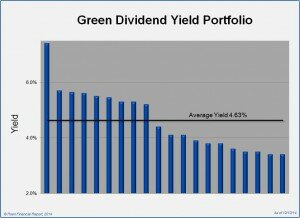 The Roen Financial Report Green Dividend Yield Portfolio is made up of high-yielding alternative energy companies aimed at generating meaningful income for dividend investors. This diversified 20-stock portfolio is carefully picked from a universe of +/- 250 alternative energy companies, and has an average yield of 4.63%. Four new companies have recently been added to the Green Dividend Yield Portfolio.
Stocks in the portfolio have yields that range from 3.4% to 7.4%. As is the case with most investments, the higher up the dividend scale you go, the more risk you are likely to assume. Companies in the portfolio, therefore, are categorized into three dividend quality classes: high quality, medium quality and low quality. These classes are meant to reflect a stock's long-term dividend producing prospects. If a company has certain strong financial features, such as return on equity, cash flow and dividend growth, it is much more likely to provide healthy dividends into the future.
New Companies Added
Four companies have been added to the portfolio, ABB (Ltd) (ABB), General Cable Corporation (BGC), Companhia de Saneamento Basico (SBS) and Schnitzer Steel Industries (SCHN).
ABB is a global smart grid company whose services include power transmission, distribution and power-plant automation. ABB ranks in the highest group for dividend quality due to outstanding dividend growth and a good cash flow to dividend ratio. ABB currently yields 3.8%
General Cable Corp manufactures wire and cable products, with a specific line of renewable energy applications for solar and wind. BGC has good dividend growth and excellent cash flow, with a current yield of 5.5%. Return on equity and earnings per share rate low for BGC, so its overall dividend quality is ranked as medium.
SBS is a Brazilian water utility that provides clean water resources and water conservation services to over 350 municipalities in and around Sao Paulo. Though the company has relatively low dividend growth, it has strong earnings per share and cash flow numbers. This medium dividend quality ranked company has a current yield of 5.2%
Schnitzer Steel is a metal recycler that salvages everything from vehicles to home appliances to bridges and buildings. SCHN has good cash flow, but rates low for return on equity, and is therefore also considered medium quality. SCHN has a yield of 3.4%.
Higher Yield = More Risk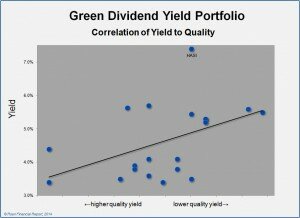 The chart below shows the correlation of yield quality to the amount of yield that a company in the Green Yield Dividend Portfolio is offering. Though not perfectly correlated, there is a clear trend line showing how companies that have lower quality characteristics are willing to offer higher yield rates in order to attract investors.
One outlier is Hannon Armstrong Sustainable Infrastructure (HASI), a specialty financing firm focused on energy efficiency, clean energy, and other sustainable infrastructure projects. HASI is offering an outsized dividend of $1.04/share, which translates into a generous 7.4% yield. This Maryland-based company has only had $14 million in sales in the past four quarters, and only recently started trading publically in April 2013, so does not have a long record of issuing dividends. Hannon Armstrong is on track, however, to have its first year of positive earnings, so this will surely be a dividend company to watch.
To find a complete list of the Roen Financial Report Green Dividend Yield Portfolio companies and rankings, please visit http://roenreport.com/premium/green-dividend-yield-portfolio/.
---
IMPORTANT INFORMATION
Individuals involved with the Roen Financial Report and Swiftwood Press LLC do not own or control shares of any companies mentioned in this article. It is also possible that individuals may own or control shares of one or more of the underlying securities contained in the Mutual Funds or Exchange Traded Funds mentioned in this article. Any advice and/or recommendations made in this article are of a general nature and are not to be considered specific investment advice. Individuals should seek advice from their investment professional before making any important financial decisions. See Terms of Use for more information.
---
Remember to always consult with your investment professional before making important financial decisions.