by Harris Roen, Editor
Roen Financial Report
November 14, 2014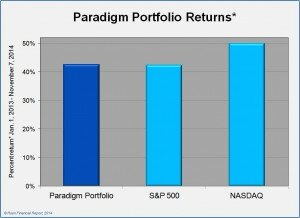 The Roen Financial Report Paradigm Portfolio has moved off its record highs reached this summer, but is still smartly up. This select portfolio has gained 42.7% since inception after accounting for additions, removals, and rebalancing*.
Two promising alternative energy stocks are being added to the portfolio this month, one a key solar and smart grid player, and the other working in wind and transportation. Also, two companies are being recommended for removal.
Returns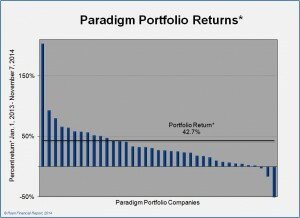 The Paradigm Portfolio fell 7.3% since the July update, at which time the portfolio reached an all-time high of 50.0% gains. Since inception, the portfolio is now up 42.7%, a 21% annualized returns. These gains are on par with the S&P 500 index, but lag the NASDAQ by about 7%.
When looking at individual stocks in the Paradigm Portfolio, about 90% of the holdings are showing gains. Of the 33 companies that are up, 30 achieved double-digit growth, and 10 have gains greater than 50%.
By far the best performing stock is the innovative solar installer SolarCity (SCTY), up a spectacular 202% after rebalancing. Solar City was priced at $12.98/share when it entered the portfolio at the beginning of 2013, and is now trading at around $50/share.
The poorest performing stock is the wind turbine and tower equipment company Broadwind Energy (BWEN), down a disappointing 51.2%. The company has variable earnings, but exhibits improving cash flow, low debt and stable sales. We believe the long-term story is still positive for this company, however Broadwind has been put on a watch to monitor developments that could exasperate its losses.
Portfolio Update
Two companies are being added to the portfolio this month—one services the solar industry and one provides wind and rail products. Conversely, two companies are being removed, one due to its flagging financials, and the other because of a change in its business sector.
Two Encouraging Investments
Fairchild Semiconductor Intl. (FCS) is a California-based company that manufactures a wide array of semiconductor products, including a strong line of solar inverters and power management equipment. Designed for consumer and industrial applications, its products range from diodes to voltage regulators to battery management devices. The company is considered undervalued at current trading prices, has excellent free cash flow, and exhibits good relative strength compared to other small cap companies. All this, combined with a very strong long-term outlook for the solar industry, makes this a perfect candidate to add to the portfolio.
The diversified product and service company Trinity Industries Inc (TRN) operates in several industrial sectors, including energy and transportation. Trinity is one of the leading manufacturers of structural wind towers, and provides logistical and transportation services for delivering wind towers to job sites. In addition to wind, Trinity manufacturers rail cars and rail car parts. This mid-cap company has solid sales and excellent annual earnings growth. We estimate Trinity to be trading at fair value, and believe there is steady upside potential from here.
Portfolio Removals
Waste-to energy company Covanta Holding Corp (CVA) is being recommended for removal from the Paradigm Portfolio. The company has a high debt rank, and has seen a drop in its quarterly earnings. We consider the stock to be overvalued at current levels, so we believe it is a good time to realize the 27% gain that the company has achieved.
Thor Industries Inc (THO) is being removed from the portfolio because the company no longer has an alternative energy segment. When Thor Industries was added to the Paradigm Portfolio, it had three commercial bus divisions that offered a wide range of public transportation options. One of the divisions, Eldorado National, was a leading manufacturer of alternative fuel buses, including natural gas and hybrid diesel. These divisions have since been sold off, and the company is now exclusively in the RV business. The stock has performed well for the portfolio, up 40.3% since January 2013.
Green Investment Prospects – Bumpy Ride Ahead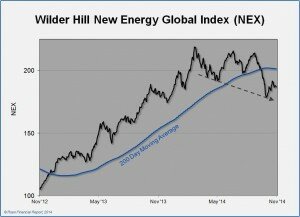 Though long-term prospects for alternative energy investments remain strong, it is likely that the recent pullback which began earlier this year will continue. As the chart shows, the Wilder Hill New Energy Global Index (NEX) has started a technical correction, having formed two lows since coming off its highs reached in March 2014. As a corollary to what happens in an up market, it is not unusual for an index to attain three or four lows beyond each previous low before it begins to turn around. The index also crossed its 200 day moving average in September, a condition which may hold for some time.
Despite the bumpy ride alternative energy investors are likely to see in the near future, we still believe that the long-term prospects of solar, wind, smart grid and other green investments look very promising. The principal downward drag on the sector, persistently low natural gas prices, and now dropping oil prices, is liable to continue. However, the boom in alternative energy installations persists and huge growth is projected to continue. Investors willing to remain in green energy for the long-haul should be handsomely rewarded.
*Hypothetical gain from portfolio recommendations. It should not be assumed that recommendations made in the future will be profitable or will equal the performance of the securities on this list. For an explanation of how hypothetical returns are calculated, please see the Returns section under How Investments are Picked in the Roen Financial Report User Guide.
---
IMPORTANT INFORMATION
Individuals involved with the Roen Financial Report and Swiftwood Press LLC do not own or control shares of any companies mentioned in this article. It is also possible that individuals may own or control shares of one or more of the underlying securities contained in the Mutual Funds or Exchange Traded Funds mentioned in this article. Any advice and/or recommendations made in this article are of a general nature and are not to be considered specific investment advice. Individuals should seek advice from their investment professional before making any important financial decisions. See Terms of Use for more information.
---
Remember to always consult with your investment professional before making important financial decisions.

One Response to "Portfolio Update: Two Upbeat Alternative Energy Investment Ideas"