by Harris Roen, Editor
Roen Financial Report
May 7, 2015
The Roen Financial Report Green Dividend Yield Portfolio is made up of high-yielding alternative energy companies and YieldCo's aimed at generating meaningful income for dividend investors. This diversified 18-stock portfolio is carefully picked from a universe of +/- 250 alternative energy companies to include those that fall in the yield "sweet spot"—high enough to be attractive, but not so high as to raise a red flag. Two new companies have recently been added to the Green Dividend Yield Portfolio, and one has been removed.
Yield versus Quality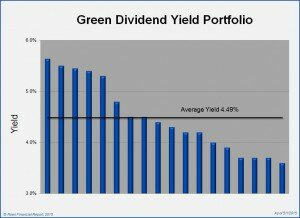 Stocks in the portfolio have yields that range from 2.70% to 5.64%, with an average yield of 4.49%. The lowest yielding stock is Swiss inverter company ABB Ltd (ABB), and the highest is the utility Exelon Corp (EXC).
Not all dividends are created equal, so it is important to consider the quality of the yield as well as the rate. If a company has certain strong financial features, such as return on equity, cash flow and dividend growth, it is much more likely to provide healthy dividends into the future. Companies are therefore categorized into three dividend quality classes: high quality, medium quality and low quality. The better the dividend quality, the better the prospects of a company's ability to produce or even increase dividends into the future. This goes for YieldCo's as well, which are discussed in more detail below.
New Dividend Yield Companies Added
Two companies have been added to the portfolio, Mitsui & Co, Ltd, ADR (MITSY) and Helmerich & Payne, Inc (HP).
Mitsui & Co, Ltd, ADR (MITSY)
Mitsui is a Japan-based conglomerate involved in a wide variety of products and services. It operates in several industries, including iron and steel products, energy, transportation and others. Of interest to the Roen Financial Report are Mitsui's project development and management services for renewable energy and environmental work, including wind power and wastewater treatment. For example, Mitsui recently took a 25% stake in GRI Renewable Industries Group, one of the world's leading wind manufacturers.
Mitsui has very strong earnings per share, return on equity and cash flow. Mitsui is considered to be trading at below fair value in the 280 price range.
Helmerich & Payne (HP)
The second divided yield stock to be added is Helmerich & Payne (HP), a domestic contract drilling company with a strong focus on natural gas. I realize that many readers may be opposed to having fossil fuel companies in their portfolios, and also recognize the problems associated with its extraction. Having said that, we see natural gas as an important bridge fuel in the transition towards cleaner energy sources. This is particularly true when natural gas is replacing coal in base load electric generation.
Helmerich & Payne has very good dividend growth and earnings per share growth. We believe HP is slightly overvalued now, and that a fair price is more in the mid to upper 60's.
Removals
Companhia de Saneamento Basico (SBS) is a Brazilian water utility that is being removed from the dividend yield portfolio. Its dividend has risen up to 7.7%, which reaches the point of added risk. Generally speaking, the higher the yield, the more risk the investor is taking on.
YieldCo's – Fad or Opportunity?
Of the 18 stocks in the Green Dividend Yield Portfolio, three are YieldCo's – Brookfield Renewable Energy Partners LP (BEP), Hannon Armstrong Sustainable Infrastructure (HASI) and Pattern Energy Group Inc (PEGI). These companies own the cash flows from renewable energy projects, and then pass them on to shareholders as dividends.
This type of investment is getting more and more popular. Renewable energy developers find it very favorable to sell their solar arrays and wind farms to YieldCo's. They see it as one of the best ways to raise capital so they can build more projects. At least two large YieldCo IPOs are in the works—TerraForm Power, a spinoff of SunEdison; and 8point3, a joint venture between First Solar and SunPower Corp.
Though we see YieldCo's as a very promising development in renewable energy investing, there are risks worth pointing out. Investors have been pouring into these companies, lifting the stock price. As stock prices rise and the dividends per share stays the same, yields have been dropping. It may make sense to wait until the stock price of some of these YieldCos become less elevated.
Another worry is that YieldCo's only work when they acquire a sizeable and expanding amount of generating assets. Without the ability to produce dividend growth, investors will ultimately look elsewhere.
Conclusion
Since we live in a time when interest rates are about as low as they are going to get, it can be challenging to find descent, stable yield. A diversified portfolio of dividend stocks can be a successful way to add income to a portfolio. To find a complete list of the Roen Financial Report Green Dividend Yield Portfolio companies and rankings, please visit http://roenreport.com/premium/green-dividend-yield-portfolio/.
---
IMPORTANT INFORMATION
Individuals involved with the Roen Financial Report and Swiftwood Press LLC do not own or control shares of any companies mentioned in this article. It is also possible that individuals may own or control shares of one or more of the underlying securities contained in the Mutual Funds or Exchange Traded Funds mentioned in this article. Any advice and/or recommendations made in this article are of a general nature and are not to be considered specific investment advice. Individuals should seek advice from their investment professional before making any important financial decisions. See Terms of Use for more information.
---
Remember to always consult with your investment professional before making important financial decisions.